Conversations on the Apocalypse. Revelation.
Sold: 0
Uploaded:
19.02.2012
Content: text
54 symbols
Product description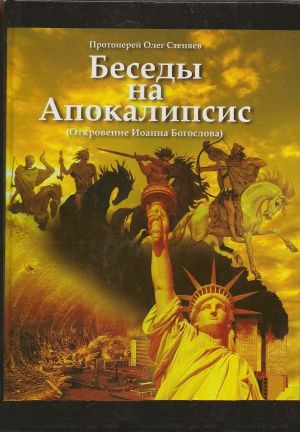 Before you - my friends typed text conversations in the Book of Revelation that I have spoken extemporaneously in Church of the Nativity of St. John the Baptist in Sokolniki Park at the end of Sunday´s Divine Liturgy in 2006-2007. I never planned to publish them in a book, my task was to carry out a moral and edifying talk to parishioners and nothing more.


In these conversations, I did not dare to such a task as subscript exegetical analysis of the text of the Apocalypse. I am not so much interested in the coverage of historical apocalypse, the apocalypse as a particular human soul. See the apocalyptic problem of his own heart and spiritual means to interpret the text.


The idea of \u200b\u200bholding such discussions arose because there was quite a lot of books about the Apocalypse, written not quite orthodox people. I originally intended to be limited to ten or fifteen talks, but it turned out what happened. Many believers recorded these conversations on tape and even video cameras, and after a while I found the lectures placed online in an audio format. Then he heard a variety of responses - from overly enthusiastic to thoughtful and critical. I thought that all of these and limited, but when I put on the table listing these conversations and offered it all to publish a book, I am very confused, because from the beginning the audience assumed only his parishioners.


But the offer was made and, after weighing all the "pros" and "cons", I decided to publish these conversations. Here I was faced with a dilemma: if they publish in the "raw" form, can go like this: it´s easy to fall on the ear, in printed form may seem awkward and incomplete. Revise the whole text at the book meant to write an entirely new thing, from what I immediately refused. So I decided to leave the text conversations on Revelation unchanged, apart from some necessary corrections, reconciliations quotes, abbreviations /
Additional information
Conversation 1. The most mysterious book. Signs coming of the Antichrist. The Jewish Question


Talk 2. Whose revelation was John the Evangelist? "Some things hard." The only witness. Read and listen to. 70-year-old girl. "And where it says in the Scriptures?". The Seven Churches of Asia - it´s Christians


3. Talk firstborn from the dead. Legitimate power. "Axios!". Alpha and Omega. Insane youth. Biblical issues. The seven historical periods of the Church. Guardian Angels eras. "Suitcase" Christians


4. Talk Ephesus Church. Earth Angels church. False apostles. First love. The first heresy Nicolaitans. Motion Lamp


5. Talk Smyrna Church. Angel Smyrna Church - Saint Polycarp. Synagogue of Satan. The wealth of real and imaginary. Be faithful until death. The second death


6. Talk Pergamum Church. Where does Satan? What to do when a toothache? Chastity faith. Hidden manna and a white stone,


Conversation 7. Thyatira Church. The mystery of love. First praise, and then found fault. Better bad start, but good finish. As two monks could not swear. Jezebel. Useful disease. "What ye have already hold fast till I come ..."


8. Talk Sardinian Church. The wealth of the earthly and the spiritual deadness. Do not be lazy! About courtship. As a pure heart


Conversation 9. Philadelphia Church. Who is true, he is holy. City of love. Life in the global credit and cannibalism - as it endure?


Conversation 10. Laodicea. It is pleasant to drink warm water on a hot day? Poor, but greedy. The righteous sinner or a sinner righteous. What is repentance and how it differs from the confession?


Conversation 11. If need be, God will rise from his throne and come down to help you. How many hands of God? Do not be boring! Righteous Church does not need. Saints and we - one body. What is prayer book was in the Apostles?


Conversation 12. Open Day in Heaven. Who is worthy to break the seals? Your "private matter" - in safe hands!


etc. Only 24 conversation.
In order to counter copyright infringement and property rights, we ask you to immediately inform us at support@plati.market the fact of such violations and to provide us with reliable information confirming your copyrights or rights of ownership. Email must contain your contact information (name, phone number, etc.)